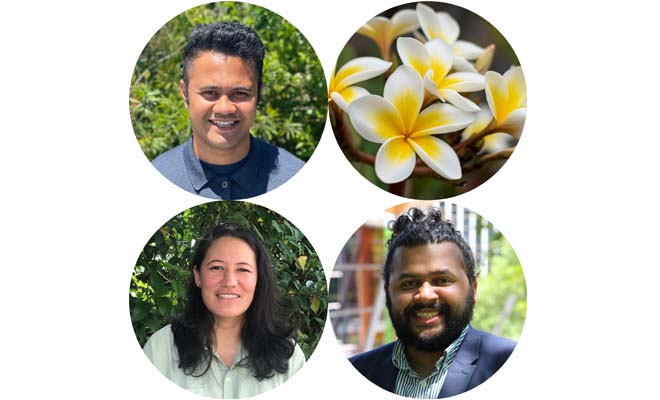 News
Congratulations to our Pacific scholarship recipients
10 December 2021
Pacific learner success

,

Supporting staff
Each year, Ako Aotearoa offers scholarships to Pacific staff in tertiary education to support pathways to leadership and build leadership capability for greater Pacific learner success. Meet our worthy 2021 recipients—Chantal Bakersmith (Unitec Institute of Technology), Ronal Reddy (Crown Institute of Studies), and Taniela Lolohea (Auckland University of Technology).
Chantal has been a regular of the New Zealand rugby and touch rugby scenes for two decades, as a player, coach, and manager at provincial and national level. She's been accepted to present at the 8th International Women's Group (IWG) World Conference in Sport and Women, to be held in Auckland next year, where she'll share her 2021 Oral History Project, "The tale of the rugby ball and me: The whakapapa of female rugby in Aotearoa," which was commissioned by the Ministry of Culture & Heritage: Ngā Kōrero Tuku Iho project. Chantal is a leading social contributor with wāhine through community sport and education, and it's hoped that this opportunity will lead to more collaborations with other Pacific and Māori academics and practitioners, to grow the resources of indigenous research, and give mana to our people and their stories.
Ronal is pursuing a Master of Business, via distance learning, from Lincoln University. While broadening the scope of his teaching, it will also build his confidence and capability to apply for higher positions and represent Ni-Vanuatu in the education sector. Ronal is focused on student-centred learning and engages with "Pacific and Māori learning concepts in the classroom to help learners gain and achieve their full potential." Ronal has a colourful and creative educational history, including adult literacy and numeracy, creative writing, and international tourism management, which are an asset to his teaching and the experience he can impart to his students. He's an active member of his community, volunteering with the Auckland Choral symphonic choir, local electorate roles, English Language Partners, and the Red Cross.
Taniela is a lecturer in chemistry at the Auckland University of Technology and has designed a novel development programme, aimed at bridging the gap for Māori and Pasifika undergraduates into postgraduate study. He is committed to creating science projects with deep connections to Pacific knowledge systems. He plans to extend his network by spending time with other Pacific academics, communities, leaders, and student cohorts, to deepen understanding of their needs and enable the creation of immersive learning experiences. Taniela wants this to form the basis for generating scientific research projects that have high social impact for Pacific communities. Additionally, he will undertake training related to scientific research leadership, so that he can make an important contribution to the New Zealand research landscape.
We're incredibly privileged to have some clever, creative, and compassionate changemakers in this country. We warmly congratulate Chantal, Ronal, and Taniela, on their achievements thus far and look forward to following their progress.