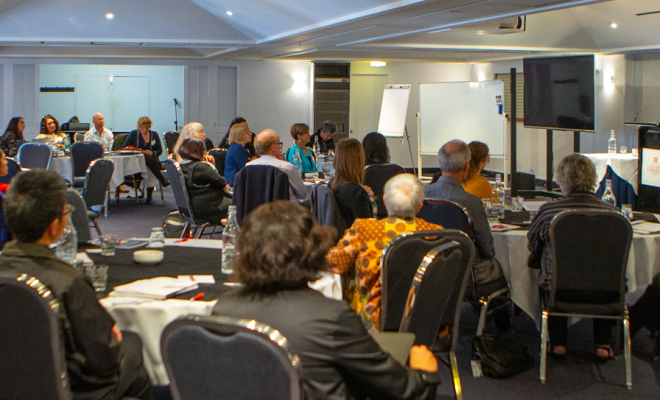 News
Four new co-funded projects underway
13 March 2019
Supporting learners

,

Educational outcomes

,

Research Methodologies
We are pleased to announce the recipients of our 2018 National Project Funding programme. The sector responded well and we received a high number of applications from a large variety of organisations.
Four proposals were funded for their focus on our strategic priorities:
professional standards for the vocational sector
adult literacy and numeracy
innovative approaches to increasing outcomes for Māori and Pasifika
future proofing tertiary education.
One of the projects, Developing a Learner Capability Framework led by Andy Kilsby explores how New Zealand teaching institutions equip learners to be more employment-ready for the fast-changing future of work. The research addresses an imbalance between discipline-specific and technical competencies, and workplace capabilities. The project will enable learners in any discipline and at all levels to gain evidence of their transferable capabilities.
A successful project by Dr Deborah Rowe aims to build a clinical programme grounded in mātauranga Māori to help with the integration of dual competency for Māori nurse-students. Titled Teaching science, self and profession to the Māori nurse-student in a Wānanga setting, the project will address the need for more Māori nurses in the health sector, and improving the professional profile of Māori-nurse graduates.
Data-informed initiatives to enhance Māori and Pacific Student Achievement is a project by Dr Sarah-Jane Tiakiwai and Dr Keakaokawai Hemi at Waikato University. The aim of the project is to develop institutional capability to use detailed, deep data effectively to create inclusive, culturally responsive, rewarding and fulfilling education for Māori and Pacific students
The final funded project, Working with "the SET process" to improve teachers teaching and learners' learning is led by Dr Beverly Norsworthy at Bethlehem Tertiary Institute. This project seeks to develop and evaluate intentional strategies which tertiary educators can use to empower learners, particularly Maori and Pasifika, to provide better insight resulting in intentional change to their teaching and communication.
Congratulations to all of the successful teams and thank you to all those who took time to apply.