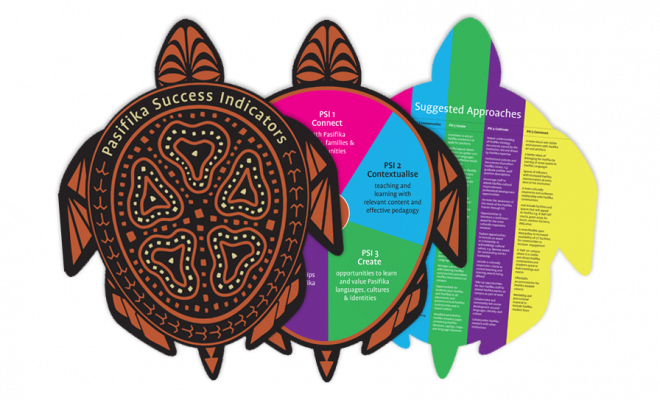 News, Tool
New turtle guides Pacific learner success with good indicators
7 September 2018
Supporting learners

,

Pacific learner success

,

Learning Designs and Teaching Strategies
Launched at the Pacific Tertiary Education Forum this week, the innovative Pasifika Success Indicators (PSI) 'Turtle' has been developed as the result of Pacific tertiary students being asked one key question – "What does success mean to you?"
The 'Turtle' represents the Pacific learner perspective on:
what makes a difference for them in their tertiary learning pathway,
what indicates success for them, and
how organisations and staff may better support them towards success.
The 'Turtle', part of the Pasifika Resource Kit, is the culmination of three inter-related projects led by a team of Pacific educators from three Canterbury-based tertiary institutions – University of Canterbury, Ara Institute of Canterbury and Lincoln University.
Understanding the 5 C's
The turtle focuses on sharing Pasifika Success Indicators in an easy to follow, colour-coded design. It outlines a wide range of indicators of success grouped under 5 C's: Connect, Contextualise, Create, Cultivate and Construct.
Other elements of the Pasifika Resource Kit include, exemplars of good practice; and a model for cultural responsiveness training and development.
Areas of learning
All three projects are co-funded by Ako Aotearoa. This project, evaluated the implementation and efficacy of the resource kit amongst staff at the three institutions.

Key areas of learning for the staff involved were:
Increased understanding of Pasifika culture and values
Increased motivation to implement strategies to assist Pasifika learners to succeed
Increased confidence in engaging with Pasifika
Increased camaraderie around enhancing Pasifika success
Increased institutional knowledge of services and support available for Pasifika
Reinforced the significance of student cultural values in teaching and learning
Staff recommendations resonated with the earlier feedback from students and include:
Transforming teaching and learning.
Improving support for Pasifika students.
Promoting and celebrating Pasifika more to make non Pasifika more aware of the diversity.
Additional support for staff to increase their cultural responsiveness in terms of specific strategies.
While this work centers on supporting Pacific learners in tertiary education, much of this work will be of value to staff and managers working in other educational contexts in Aotearoa New Zealand.