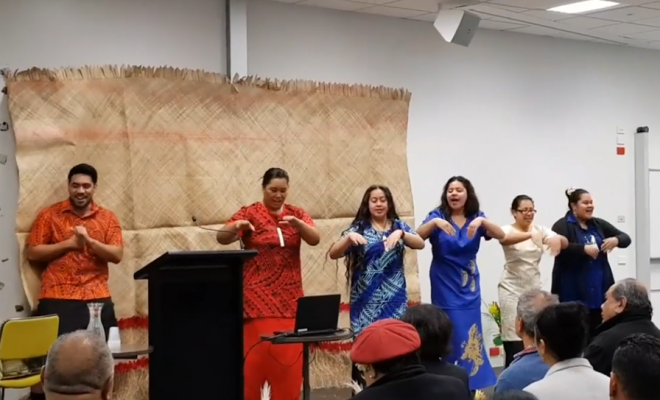 News, Conference
How do we really grow success for Pacific Learners in Tertiary Education?
5 September 2018
Pacific learner success

,

Supporting staff

,

Strategic Leadership and Change
'Be the change you want to see in the world' is the theme for this year's national Pacific Tertiary Education Forum, to be held in Wellington on Thursday 6th and Friday 7th September.
The event brings together a wide range of learners, teachers, support staff, managers and government agencies to discuss and debate better ways of working to make a substantial difference for Pacific learners and staff.
By 2026 around 10% of New Zealand's population will be Pacific peoples so making positive and enduring impacts now will enhance the productivity of the entire nation. This requires us all to build greater cultural awareness and capabilities amongst tertiary providers, so that success becomes a reality for all Pacific learners, whatever level of tertiary education they engage with.
Hosted by Ako Aotearoa and the Association of Pasifika Staff in Tertiary Education (APSTE) the forum boasts an inspiring line-up of leaders from government, the tertiary sector and, most importantly, the learners. With insightful presentations from Hon Jenny Salesa (Associate Minister of Education), Hon Luamanuvao Dame Winnie Laban (Assistant Vice-Chancellor Pasifika, Victoria University), and Dr Margaret Southwick (Emeritus Dean, Whitireia Community Polytechnic), visitors are guaranteed to be armed with a solid understanding of current Pacific education needs, issues and potential solutions.
The event builds on key themes that arose through the talanoa (discussion) sessions at last year's forum, including 'be the change you wish to see in the world', change through research, student and community voice, learner support and collaboration and leadership and career progression. The event aims to harness delegates' expertise as they examine issues and formulate solutions that may be put to Government agencies and tertiary institutions. Two 'not to miss' sessions include the government agency and learner panels, both featured on Day 1.
Helen Lomax, Director of Ako Aotearoa explains the significance of the theme, "Our aim is to lead positive change for Pacific Peoples in tertiary education in Aotearoa. This forum creates the space for everyone to contribute to what that change needs to be and how we can actually make it happen from the grassroots up."
The forum would not be possible without the significant support of Victoria University of Wellington and the Building and Construction Industry Training Organisation (BCITO). We are delighted to also have support from the Ministry of Education, Tertiary Education Commission and the New Zealand Qualifications Authority.