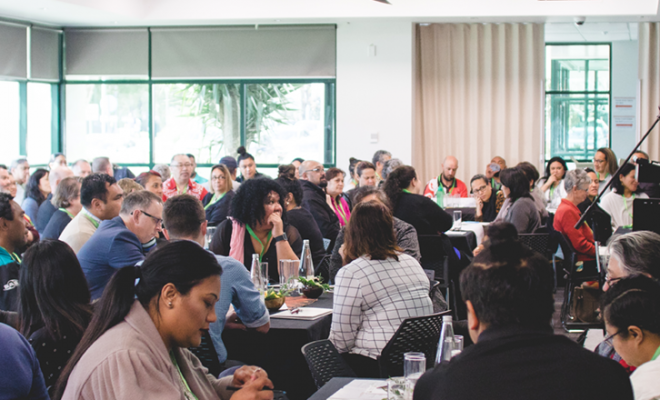 News, Conference
Pacific Tertiary Education Forum
5 March 2018
Supporting learners

,

Pacific learner success

,

Supporting staff

,

Strategic Leadership and Change
APSTE and Ako Aotearoa are proud to present the 2018 Pacific Tertiary Education Forum (PTEF), a fono for tertiary practitioners and stakeholders to talanoa (discuss) and create solutions to increase the successful outcomes of Pasifika in Aotearoa.
The two-day forum, now in its fourth year, will take place on Thursday 6th and Friday 7th September 2018 at the Kelburn campus of Victoria University of Wellington. The theme 'Be the change you wish to see in the world' will be examined through a uniquely Pacific perspective, drawing on the experiences of a broad cross-section from the tertiary sector.
The forum brings together the voices of learners, academic/educational and tertiary support practitioners, and agency stakeholders. Each programme summarises the previous year and seeks delegates' expertise as they examine issues and formulate solutions that may be put to Government agencies and tertiary institutions. A feedback cycle has been established, and agencies will be present to not only address the conference but to engage in debates and workshops.
By continually building cultural awareness and capabilities in our tertiary providers, the sector will lead the way to better lives for Pacific peoples. By 2026 around 10% of New Zealand's population will be Pacific peoples so making positive and enduring impacts now will enhance the productivity of the entire nation. As such, the PTEF aims to be the eminent forum for Pacific dialogue around education. Some of the themes we expect to discuss include:
The rapidly changing tertiary sector and how we can stay connected to values
Challenges for Pasifika learners today and cultural responsiveness, political responsiveness, academic responsiveness and community responsiveness to these challenges
Leadership in tertiary education for Pacific peoples
Government priorities for Pacific education
Pasifika learners in STEM Education
The Pacific worldview in a New Zealand tertiary education context
We are delighted to announce that Associate Professor Hon Luamanuvao Winnie Laban, Assistant Vice-Chancellor (Pasifika) at Victoria University of Wellington is a confirmed keynote speaker.
More speakers to be announced in the coming weeks.
We invite you to join this vaka / waka and be part of the exciting journey towards greater educational success. Working together we can make practical changes to the tertiary landscape, and become better equipped to meet more of the challenges presented by globalisation in the Pacific contexts.