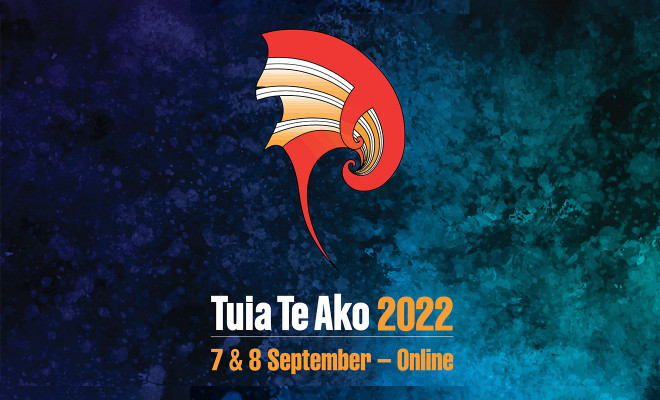 News
Tuia Te Ako Returning in 2022
14 April 2022
Māori learner success

,

Strategic Leadership and Change

,

Māori and Pacific pedagogies
Ako Aotearoa is pleased to announce the return of our national Māori tertiary education hui – Tuia Te Ako. The hui will be held online on 7 & 8 September.
Nau mai, haere mai!
Tuia Te Ako 2022 – Hui-ā-Ipurangi
7 & 8 Hepetema 2022
We are happy to officially announce the return of Tuia Te Ako in 2022. Tuia Te Ako – our national Māori tertiary hui – will be run over two mornings on 7 & 8 September 2022. This will be an online event and we will be releasing more details soon so please save the date! Please note – registrations for the event are not yet open.
Kaupapa Matua / Theme
Tuia Te Reo Māori ki te Mātauranga Matua
Weaving Te Reo Māori into Tertiary Education
Ko te tau 2022 te tau e whakanuia ai te huritau 50 o Te Petihana Reo Māori, te huritau 40 o Te Kōhanga Reo, te tau hoki kua whakaritea nei e Te Rūnanga Whakakotahi i ngā Iwi o te Ao hei 'Tekau Tau mō ngā Reo Taketake o te Ao'.
2022 is the year in which we celebrate the 50th anniversary of the Te Reo Māori Petition, the 40th anniversary of Te Kōhanga Reo, as well as the United Nation's 'International Decade of Indigenous Languages'.
Ko tā Tuia Te Ako 2022 he hono i te Mātauranga Matua me te reo Māori, arā, kia whai akoranga ai tātou mai i ngā tau 50 kua hipa nei; kia whakaaturia ake ngā mahi papai o tēnei wā; ā, kia hanga mahere hoki mō ngā rā e tū mai nei; nāwai rā, kia matomato anō ai te tipu o te reo Māori i ngā whakahaere o Aotearoa.
Tuia Te Ako 2022 will connect tertiary education and te reo Māori to learn from the past 50 years; to share current good practices; and to plan for a future where te reo Māori is flourishing as a normal part of life in Aotearoa.
History of Tuia Te Ako
In August 2010, the inaugural Māori tertiary education hui, Tuia Te Ako, was held at Pipitea marae, Wellington. It was agreed that there was a need for such a gathering for Māori educators to come together to reflect on, and share, aspects of tertiary teaching and learning and that the event would be an ideal forum to discuss and share existing models of good teaching practice with a focus on assisting whānau, hapū, iwi, and Māori communities to achieve their aspirations.