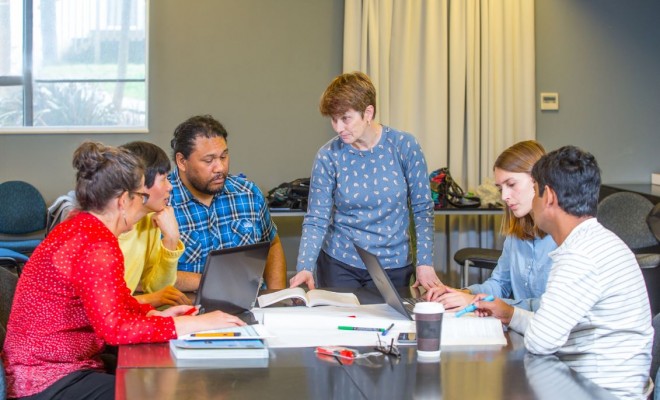 Working party builds upon professional teaching standards synthesis report
We recently brought together a group of vocational teaching experts to identify opportunities for professional teaching standards and how to make the best use of them in this sector.
The group made a flying start by reviewing an Ako Aotearoa-commissioned synthesis report, prepared by Gordon Suddaby, that explores the possibility of implementing teaching standards across the country. This in-depth report will be available to the public by the end of year.
Both the report and subsequent meeting are rooted in one of Ako Aotearoa's strategic themes to advance the debate on the development of teaching standards for tertiary educators. This has been something that we have explored for many years; however, there remain concerns about how to best implement teaching standards so that they enable staff to not only do their job, but also identify good practice and help learners succeed.
A key discussion of the meeting focused on what success would look like for students. Izzy Paterson, the student president at the Universal College of Learning, helped identify what students want most from teachers, including:
First and foremost, students want teachers to have a passion for the subject and for helping students learn. Students want teachers to have a drive to help students succeed.
Students want teachers to be approachable by building relationships with students and developing a comfortable learning environment.
Knowledge of the subject is important but so are the skills to teach well. This includes captivating the students' attention, motivating them to the learning outcome and facilitating good learning.
Students want culturally capability teachers who know how to meet the needs of Māori and Pacific students.
Students want clarity, especially in assessment and feedback.
Students want teachers to be open to feedback so that teachers can develop their practice and are aware of minor problems that can be easily resolved.
The group also explored what teaching standards can do for the educator and the institution, as well as what success looks like for Māori and Pacific people.
The working party will make recommendations later in the year to coincide with the release of the synthesis report. If you would like more information, contact John Milne, Senior Advisor Professional Learning.