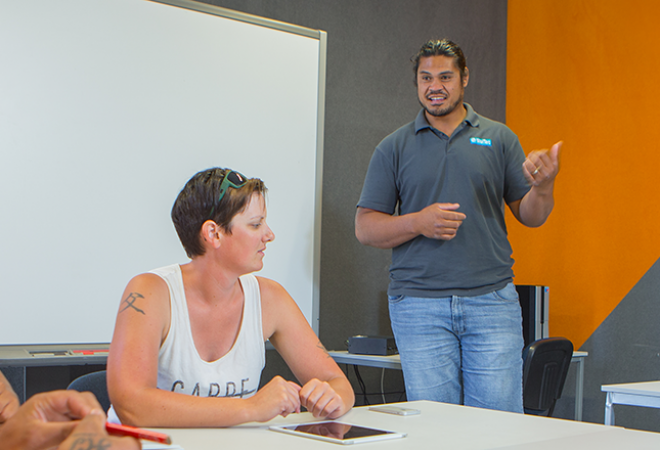 Industry Training Series: Literacy and numeracy for those in non-teaching roles
This is a workshop followed by an optional online module.
Face-to-face: $270 + GST per person.

Video conference: $210 + GST per person.
This workshop will be offered based on demand. Contact us to register your interest.
Workshop Details
This course offers an in-depth look at the issues related to literacy and numeracy within an ITO context, an opportunity to ask questions, explore ideas, and network. As an entry level workshop, no prior knowledge of literacy or numeracy is required.
Key areas of content include:
the ways in which low literacy or numeracy skills impact individuals and workplaces

the features of the NZ literacy and numeracy infrastructure such as the Learning Progressions

,

and

the

Literacy and Numeracy Adult Assessment Tool (LNAAT)




approaches non-teachers can use to

support

trainers,

learners

and apprentices

strategies to communicate literacy and numeracy to non-educators.
Who should attend:
The course is designed for ITO staff who are in non-teaching roles who require a firm understanding of the issues surrounding adult literacy and numeracy, such as training advisors or managers. It will also be useful for those new to the sector seeking an introduction to the NZ literacy and numeracy infrastructure.
About the facilitator:
Dr Damon Whitten has a rich background in the fields of literacy, language and numeracy. This includes extensive tutoring working with adults with a range of literacy and numeracy needs with an emphasis on connecting research to teaching practice.
Ako Aotearoa ALNACC PLD Courses
Each course consists of a workshop delivered face-to-face or by video conference, followed by an optional four-week online module. The module is in the form of a community of professional learning. It is self-paced and takes a minimum of 1-2 hours of engagement per week.
Participants will have the opportunity to practise and reflect on the new learning and exchange experiences and ideas with each other and the facilitator.
Participants can collect evidence of participation and engagement in their PLD Portfolio or Kete.
ALNACC PLD courses | Supporting adult literacy, numeracy and cultural capability