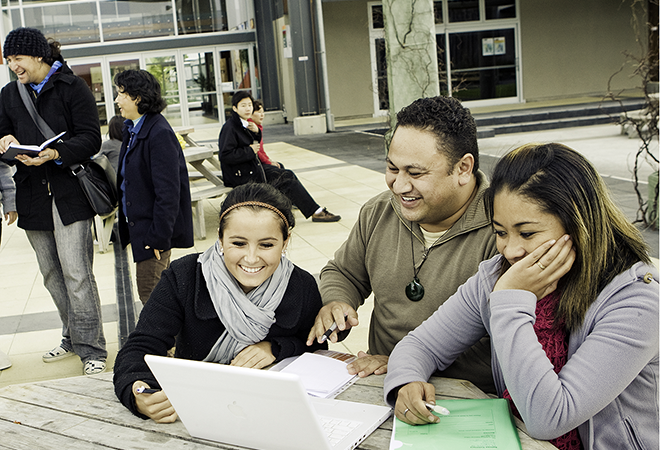 PROJECT
Māori and Pasifika Apprentices and Relational Mentoring: A Success Story for The Skills Organisation
Employability

,

Supporting learners

,

Pacific learner success

,

Māori learner success

,

Workplace learning

,

Learning designs and teaching strategies

,

Teacher professional development

,

Vocations and Trades

,

Bridging and transition
Status
Completed: 28 February 2012
Project Details
A project, completed in 2012, to produce a good practice publication exploring a socio-cultural approach to mentoring with Māori and Pasifika electrical apprentices. The Skills Organisation commissioned Work and Education Research and Development Services to undertake the project.
Aims:
The main aims of the project were to:
develop an effective model of mentoring for Māori and Pasifika apprentices
take an innovative and effective approach that included three unique elements: a culturally appropriate approach; linking with the apprentices' local and ethnic communities; and ensuring the mentors brought high 'trade knowledge' to the relationship
provide two initial professional development workshops for the mentors
support and monitor the professional development and mentoring programme over the following year of the pilot.
Methodology:
The project used a cyclic action-reflection process, which involved:
a review of the literature
providing an initial mentor professional development workshop
monitoring and supporting ongoing practice by phone, text messaging,

and email
feeding new information into further workshops
providing written guidelines and ongoing individual and group support.
Team
Dr Chris Holland
Work and Education Research and Development Services
Status
Funding
$4,500.00 (excl GST)
$4,500.00
Good Practice Publication Grant
Key Findings
The key findings from the project included:
The Māori and Pasifika mentors observed that, while they had gained strength from a Māori and Pasifika cultural lens on the work, apprentices sometimes were disadvantaged in traditional apprenticeship learning situations. For instance, the mentors commented that while speaking up and asking for help was comfortable for Pākehā apprentices, Māori and Pasifika apprentices were culturally disinclined to call attention to themselves.
Apprentices were sometimes reluctant to ask for help even from their mentors. Yet without mentor persistence, apprentices often floundered. One such apprentice lost his job. This example emphasises the importance of regular face-to-face meetings and sensitive, deep questioning and listening techniques.
Other activities were strengthened by mentors' deep knowledge of Māori and Pasifika world views. For example, Māori and Pasifika mentors demonstrated a particular ability to advocate for the apprentices when tutors misread their actions.
The fact that mentors took part in apprentices' communities (e.g. church, sport, social services) was important to apprentices in terms of both trust and accessibility. Apprentices felt they could open up more (and more often) to the mentors, because they mixed with them socially.
Reciprocity, in terms of giving back, was very important to apprentices who had been mentored. Most of the apprentices interviewed at the end of their first year felt they had received a gift in mentoring and wanted to reciprocate by mentoring others. As apprentices worked with their mentors, they came to see the value of having someone they could trust to stand beside them.
Key Recommendations
The key recommendations from the project included:
Benefits of relational mentoring support

| At the end of our one-year professional development, monitoring, and review process, we found that eight out of 10 apprentices on the programme stayed in their apprenticeship and continued with their study (one left for higher study, one lost his job). According to Skills management, this was an outstanding result for Māori and Pasifika apprentices compared to earlier years. More importantly, interviews with mentored apprentices show that only one of the eight successful apprentices had considered leaving his apprenticeship during their first year. He changed his mind directly as a result of mentoring support.
Approach to professional development

| Our approach to professional development includes interwoven teaching and learning, guided practice, and research components. This combination is vital to the further improvement of mentoring for apprentices, especially as apprentice mentoring is relatively new in New Zealand in comparison to other countries. As a result of this combined process, we have been able to continually improve the effectiveness our professional development programmes for mentors, and to offer some insights to others working to improve apprentice learning and achievement for Māori and Pasifika.
A Good Practice Guide prepared by Chris Holland
(PDF, 516 KB, 7-pages)