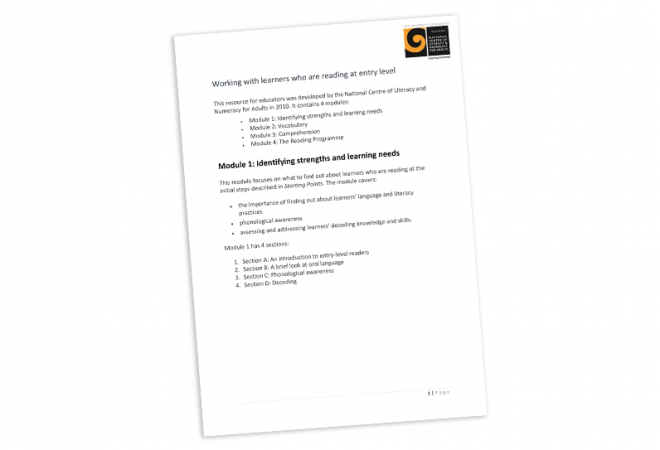 Module 1: Identifying strengths and learning needs
Supporting learners

,

Learning Designs and Teaching Strategies

,

Literacy and numeracy skills
Published: 22 June 2020
This module focuses on identifying the strengths and learning needs of learners who are reading at Starting Points level or the lower steps of the Learning Progressions. The module covers:
the importance of finding out about learners' language and literacy practices
phonological awareness
assessing and addressing learners' decoding knowledge and skills.
This module has four sections:
Section A: An introduction to entry-level readers
Section B: A brief look at oral language
Section C: Phonological awareness
Section D: Decoding
This resource will help educators to explore why and how to find out about adults' language and literacy practices, as well as any specific factors that might be barriers to their developing expertise in reading.
By working through this module, taking time to try out the assessment activities and reading the recommended reading, educators will have a good idea of where to start with adult learners who are at entry-level reading.