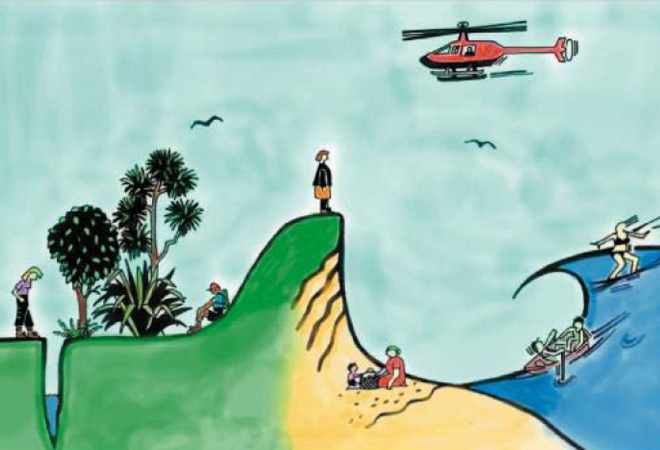 PROJECT
The Wave: A Teaching Tool for Minimising Resistance
Supporting learners

,

Educational outcomes

,

Distance and flexible learning

,

Learning designs and teaching strategies
Status
Project Details
The Wave is a tool to facilitate learning when either the characteristics of learners or the subject matter may generate resistance.
What is The Wave?
The tool provides a reliable, easy-to-deliver, easy-to-understand, easy-to-remember learning experience that highlights two main ideas:
everyone has knowledge, people have different kinds of knowledge from different viewpoints and
individuals and groups have different realities.
Team
Christine Herzog
Auckland Workers' Educational Association
Status
Funding
5000.00 (excl GST)
$5,000.00
Good Practice Publication Grant
Key Findings
Why use The Wave?
Students are encouraged to share their own understanding and to look at the underlying reasons for different viewpoints instead of being preoccupied with defending their own positions and/or shifting the viewpoints of others through argument. Understanding differences in perception make it easier for learners to engage effectively with different viewpoints. It also assists teachers to encourage participation and to manage difficult situations without resorting to positional power.
The tool addresses several factors that slow learning:
learners lacking confidence about their own knowledge and experience; this discourages them from participating in discussion or even asking questions because, for example, they might be seen as being 'wrong' or 'stupid'
the converse of this: learners' conviction that their own knowledge and viewpoints are the only legitimate ones; this inhibits them from listening carefully to different points of view
learners feeling inadequate, for example, about their ability to defend their views
learners feeling anxious that discussion of controversial subjects will become confrontational
learners feeling uncomfortable about examining their own assumptions, values, and/or worldviews
learners feeling unsafe to engage, for example, because of differences between their own viewpoints and particularly those of the tutor and/or the course materials, but sometimes even differences with classmates (this relates to the much larger topic of the impact of power relationships in a learning situation)
Key Recommendations
The Wave can be applied to a range of educational settings and subjects. It is particularly effective when the subject matter is controversial and requires learners to consider various viewpoints or contexts different to their own.