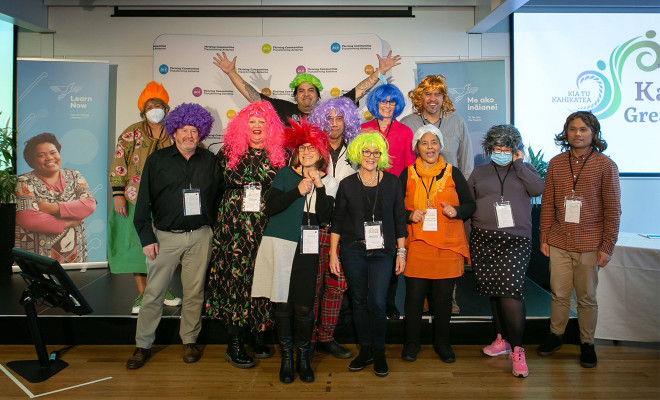 News
Inside the Minds: Ako Aotearoa's take on the ACE Aotearoa Conference
11 July 2022
Adult and community education
Kiwi educators came together in June to discuss neurodiversity in adult and community education. Our Southern Sector Services Manager, Jennifer Leahy, was there and tells us about the good, the challenging, and the fun at the ACE Aotearoa Conference.
ACE (Adult and Community Education)
noun
A group of fun, passionate, and tireless educators who believe in the benefit of life-long learning and work every day to make education fair and accessible for everyone.
The annual ACE Aotearoa Conference is one of only a few opportunities for adult and community educators to meet up, celebrate, and learn. As long sufferers of the constant need to try to find more funding, as well as more time, we look forward to this chance to reflect and restore.
The ACE Aotearoa Conference and Awards 2022 were held in June. This year's theme was 'Te Manu Kairangi Great Minds'. The goal was to explore neurodiversity in learning through a strengths-based approach. The conference certainly lived up to expectations, providing a range of world views as well as examining what good practice looks like. More than 130 educators from all over Aotearoa were delighted to be able to meet again face-to-face.
The conference began with a provocative challenge from Dr Diana Kopua who highlighted the big issues of racism, misogyny and colonisation. She reminded us to stay curious to the whakapapa of knowledge and to constantly ask 'who is being privileged?' She pushed us all by stating that "we all wake up perpetuating racism".
In addition to being conference sponsor, Ako Aotearoa's involvement in the programme involved presentations from staff; Annette Tofaeono (Senior Advisor, Foundation Learning) held a workshop on the Dyslexia Friendly Quality Mark and Tapatoru, Graeme Read (Sector Services Manager, Central) presented on the Neurodiversity Community of Practice, and I (Jennifer Leahy - Sector Services Manager, Southern) facilitated a session to gather ideas on meeting the needs of neurodiverse learners.
I was challenged again by the panel of speakers from their lived experiences of neurodiversity. I learnt about the key traits of some neuro-diverse conditions, as well as more constructive ways to work with neurodiverse learners. Another speaker reminded me that "we are not the experts, as we are normies".
The event also featured inspirational workshop sessions on breaking down barriers and encouraging neurodiversity in the workplace as well as in aged care. Other workshops utilised Lego and puppets to help dispel many of the myths which exist around some neurodiverse conditions. Some of the takeaway messages for me were "We are part of the problem, it's us that must change" and "If you aim for nothing, then you will achieve nothing". Another quote repeated throughout the conference by the brilliant MC Pale Sauni, (Pacific Priorities and Cultural Leader, Ako Aotearoa) was "When you're having fun, you're learning". Finally, there were sector updates, a kava ceremony, and the annual presentation of the ACE Aotearoa Awards.
Congratulations to Charmaine Tukua and Heather Newell who were awarded Educator of the Year in the Tangata Whenua and Tangata Tiriti categories respectively. You can read more about all the awardees and categories on the ACE Aotearoa website.
It's not only the content that stands out from attending an ACE Conference, but also the amazing sense of manaakitanga that the small team, led by Analiese Robertson, demonstrate. I always feel supported, challenged and inspired by the range of conference presenters, and feel nurtured by the connection with the amazing ACE whānau and their commitment to their work. It's a sign of a good conference when people can easily claim that they learned a lot as well as enjoyed the time with colleagues. This year's ACE Conference was no exception.
Ako Aotearoa was proud to be a sponsor of the 2022 ACE Aotearoa Conference. We share a close relationship with ACE Aotearoa as well as a profound respect for them and their mahi. We will continue working together to improve education for all adult learners in Aotearoa.