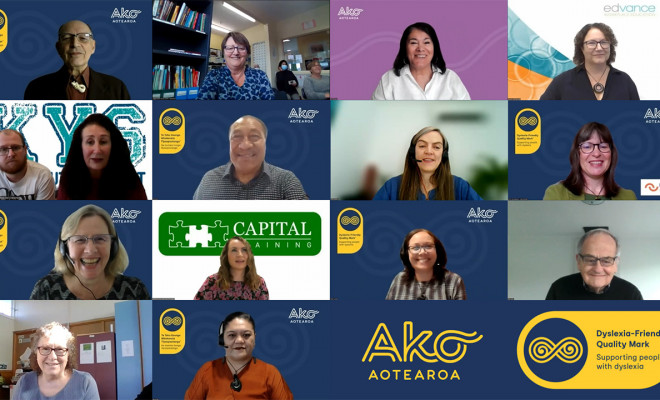 News
Six organisations receive Dyslexia-Friendly Quality Mark at first award ceremony
4 August 2022
Educational outcomes

,

Strategic Leadership and Change

,

Literacy and numeracy skills
Six tertiary education organisations were awarded the Dyslexia-Friendly Quality Mark (DFQM) at
an online award ceremony last week.
Kāpiti Youth Support, UCOL Horowhenua, Capital Training, Hagley Adult Literacy Centre, Ashburton Learning Centre, and Edvance were the first organisations to be officially awarded the DFQM and acknowledged for the outstanding work they are doing to support learners with dyslexia.
Dyslexia advocate and consultant Mike Styles was present to award the DFQM, as was Ako Aotearoa's Manako Programme Manager Annette van Lamoen. Sara Williams from the Tertiary Education Commission spoke about how wonderful it is to see the DFQM running and having so much impact. "When we hear comments from learners that they had never been seen before, or never had support with their dyslexia, or didn't know they had dyslexia – we know that that is going to completely change their learning journey," said Sara. "It will also change how they feel about themselves in relation to literacy and probably really improve their life outcomes. So we need to really hold fast, and never underate the value of this work."
"The [DFQM] has been massive for us in acknowledging that dyslexia is everywhere" said Jordan, a social worker at Kāpiti Youth Support during the organisation's acceptance of the DFQM. "We've now referred on 8 young people, who we would have never considered having dyslexia, to get screened through their schools. That's been amazing."
Although this first DFQM Award Ceremony marked the peak of the Dyslexia-friendly journey for the recipient organisations, it is hoped that it was the first of many award ceremonies to come celebrating the work that goes into supporting dyslexic learners around Aotearoa.