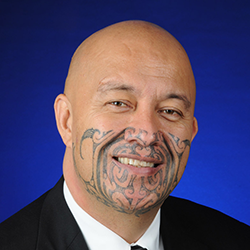 Te Kahautu Maxwell
Award for Sustained Excellence in Tertiary Teaching – Kaupapa Māori category
Pūkenga Matua, Te Pua Wānanga ki te Ao i Te Whare Wānanga o Waikato

Senior Lecturer, School of Māori and Pacific Development, The University of Waikato
"Whāia te pae tawhiti kia tata – Pursue the long term goals so that you may attain them."
Te Kahautu Maxwell has iwi affiliations to Te Whakatōhea, Te Whānau ā-Apanui, Ngāi Tai, Ngāti Awa, Tuhoe, Ngāti Porou and Ngāti Maniapoto.
Teaching in English and Māori at undergraduate and postgraduate levels, Te Kahautu believes his role is "to empower the learners to be the architects of their own destiny and to ensure they understand the relevance of their study to te Ao Māori". His colleagues say, "Te Kahautu is a dynamic and energetic teacher. He is compassionate, humorous and sets high standards for his learners".
A colleague says, "learners plan their study around his classes at 200, 300 and 500 levels. Such is his mana amongst our students". Despite that, Te Kahautu is a humble man who was nominated by his colleagues for this award.
Te Kahautu is also a scholar in te Ao Māori. He is an expert orator and haka exponent, composer, tohunga of the Ringatū Church and licensed translator. Accordingly, he has a deep love for his people. "He encouraged us to be proud participants within our own iwi and to take the skills that we learned and use them in every aspect of our lives".