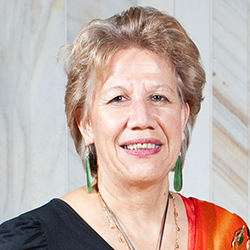 Sandra Lee Morrison
Award for Sustained Excellence in Tertiary Teaching – Kaupapa Māori category
Senior Lecturer/Associate Dean School of Māori and Pacific Development, University of Waikato
"Learning with the heart."
Sandra's defining moment was the birth of her first mokopuna and the realisation that 'every generation has a role to play in their people's and nation's development'.
Her teaching focus is 'learning with the heart as well as with the mind'. Over the last 15 years she has taught here and abroad in a range of subjects, at the heart of which is indigeneity. Sandra sees the learner not as an individual but connected to a wider network of whānau, hapū and iwi. Her teaching allows space for all to belong and feel safe so they can claim where they position their turangawaewae.
Sandra holds a number of esteemed leadership roles including international educator and trainer and Co-Director of the Basic Leadership Development Course for the Asia South Pacific Association for Adult and Basic Education.
She is currently Associate Dean in the Māori Department and describes her teaching with a quote from Elvis Presley: 'Values are like fingerprints. Nobody's the same, but you leave them all over everything you do'.
Tēnā koe, he wahine toa, he wahine humarie.