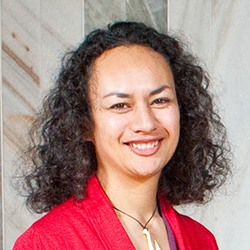 Dr Ocean Mercier
Award for Sustained Excellence in Tertiary Teaching – Kaupapa Māori category
Lecturer, Te Kawa a Māui / School of Māori Studies, Victoria University of Wellington
"Inspiring others to greater heights of achievement".
Ocean Mercier, of Ngāti Porou, who began teaching in 2001, has worked at undergraduate and postgraduate level in Science and Māori Studies. Her teaching career has been distinguished by pioneering work at the interface of Māori and western science, resulting in courses at 100 and 300 levels at Te Kawa a Māui at Victoria University. She is a new breed of bi-cultural teacher, blending the traditional with the modern by including new technology and teaching methods within Māori tertiary teaching practice.
Dr Mercier relishes the challenge of implementing ako (inclusive teaching) for the benefit of Māori and non-Māori learners – easily bridging the divide with patience and manaakitanga. Colleagues point to her 'calm and effective style' and her learners enjoy her inclusive approach to teaching where she 'encourages and values student input'.
Her mantra 'ako ake ake' (always learning) gives her humility in interactions with her tauira (learners). 'I am not the expert – just an informed person who can generate an environment conducive to taking on new knowledge.'