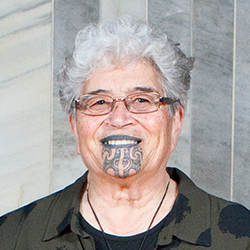 Mana Elizabeth Hunkin
Award for Sustained Excellence in Tertiary Teaching – Kaupapa Māori category
Tumuaki, Te Kura Motuhake o Te Ataarangi
"Inspiring others to greater heights of achievement".
Elizabeth Hunkin, better known as Whaea Liz, has made an outstanding contribution to the survival of Te Reo through her own passionate teaching and her determination to help others succeed in learning.
Whaea Liz has a lifetime of experience as a teacher and facilitator. Inspired by Ngoingoi Pewhairangi and Kāterina Te Heikōkō Mataira, the founders of the Te Ataarangi method, she and her husband Graeme returned to Wairoa and her ūkaipo, Nuhaka, where they created Te Kura Motuhake o Te Ataarangi, For the past 20 years, Whaea Liz has been a leader of the Māori language revival of Ngāti Kahungungu. She teaches adults from all walks of life, is an exceptionally skilled facilitator, continues an active role in the local Kohanga Reo movement and is the key language reference person for the local Kura Kaupapa Māori.
A past student says, 'She is an exemplary personification of Ngākau Māhaki – kindheartedness and generosity of spirit characterise her work. I am one of many fortunate to have been taught, guided and mentored by this amazing teacher.'