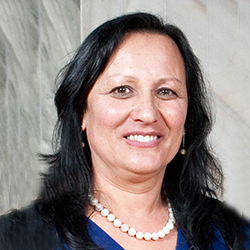 Sophie Nock
Award for Sustained Excellence in Tertiary Teaching – Kaupapa Māori category
Senior Lecturer, Te Pua Wānanga ki te Ao / School of Māori and Pacific Development, The University of Waikato
"Each new discovery is a koha (gift)".
Sophie says, 'A language cannot survive in a vacuum – it needs to be spoken.' It was passion for te Reo Māori that first got Sophie into teaching. As a 'guardian of language and culture' she has successfully ignited that same passion in the New Zealand and international students she has taught over the past 12 years. Her teaching is grounded in Kaupapa Māori and students are at the centre of her teaching. She creates a 'community' of learning, encouraging a culture of sharing. Her teaching style is one of 'encouragement, challenging, but never overwhelming' and her students speak highly of her and trust her as an educator.
As a 'good role model' she actively engages in research to enhance her teaching and sets high standards for herself and her students. Sophie ignites in her students a passion for learning and they leave with a deeper understanding and appreciation for te Reo Māori and a sense that the learning experience has been a koha or a gift.