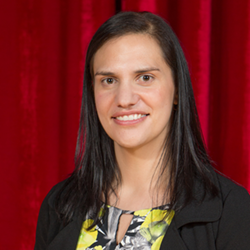 Dr Karyn Paringatai
Prime Minister's supreme award recipient 2014
Also Award for sustained excellence in tertiary teaching – Kaupapa Māori category
Pūkenga, Te Tumu – School of Maori, Pacific and Indigenous Studies Te Whare Wānanga o Otāgo / University of Otago
"Core values of manaakitanga and aroha ki te tangata underpin all that Karyn does with and for her students"
She is an exceptional teacher whose teaching excellence transcends her particular discipline and the boundaries of ethnicity.
Learners from many different backgrounds describe her as "awesome", "absolutely fantastic" and "easy to approach" and pay tribute to her nurturing, empowering and reflective teaching approach.
Her revival of the ancient practice of teaching in the dark and subsequent research into its benefits is world leading and has the potential to positively impact teaching in a range of disciplines including law.
As a committed practitioner of Kaupapa Māori and a passionate student and scholar of te reo Māori and Māori Performing Arts, Karyn Paringatai personifies excellent teaching. "Ako recognises the cultural capital that both my students and I bring to the classroom. I do not claim to know everything. Together we endeavour to find the solutions."
Video Gallery
Karen Paringatai – Recipient of the 2014 Ako Aotearoa Prime Minister's Supreme Award