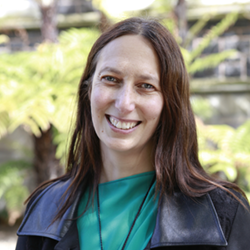 Professor Jacinta Ruru
Prime Minister's Supreme Award recipient 2016
Also award for Sustained Excellence in Tertiary Teaching – Kaupapa Māori category.
Faculty of Law, University of Otago
"Some of my proudest career moments are when I know I have made a life-long difference for students because of my teaching."
Jacinta inspires student success through "a respectful curriculum" enriched by Māori stories and indigenous world views, embedded with tikanga and practice-based approaches. Data for 2002-2015 show far more Māori students are passing, excelling at higher levels, achieving national and international scholarships. Colleagues attest that Jacinta is the catalyst for these impressive results.
Jacinta has created a whanau environment for Māori law students, a curriculum that fills the previous silences of indigenous visions for law, and practical learning experiences and assessments that value tikanga Māori. She co-designed a multidisciplinary research programme to explore how mātauranga Māori and Māori pedagogies can transform teaching and learning. A senior colleague, impressed with her work remarks: "It is a testament to her teaching that she has designed such a visionary programme. It transforms students into humble, confident broad thinking leaders".
Student feedback is summarised by this quote: "Professor Ruru's course was the highlight of my legal studies because it was based in kaupapa Māori and she encouraged students to engage in the content through te ao Māori instead of conventional western norms."
Video Gallery
Professor Jacinta Ruru - Recipient of the 2016 Ako Aotearoa Prime Minister's Supreme Award