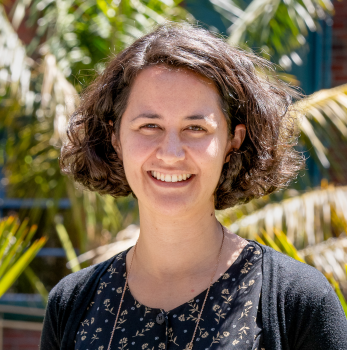 Dr Awanui Te Huia
Award for Sustained Excellence in Tertiary Teaching – Kaupapa Māori category
Senior Lecturer, Te Kawa a Māui - School of Māori Studies, Victoria University of Wellington
Ko te whāinga matua o ngā mahi whakaako a Awanui, he ārahi i te toronga atu o ngā ākonga Māori me ngā ākonga Pākehā ki ngā pānga whānui o te mahi tāmi ki runga i te ahurea me te papori. Ka tutuki tēnei whāinga āna i raro i te kaupapa Māori me tōna mōhio ki te mātauranga ā-hinengaro.
Kei te whakamihia, kei te whakanuia hoki ia e āna akonga rātou ko ngā pūkenga whakaako, nā te auaha me te hōhonu o āna mahi whakaako; nāna te tono ki āna akonga ki te "whakahoki mai te mana whakahaere o ā rātou mahi ako, o tō rātou noho i te papori me ā rātou tikanga, ki a rātou anō." Hei tā ōna hoamahi hoki, he mea nui āna "kōrero whaikiko, whai taunaki hoki ki te rōpū e whakaako ana i te reo Māori me te huhua anō o ngā kaupapa."
Ko te pūtake o ngā mahi whakaako a Awanui, mō te reo me te mātauranga Māori, he hāpai i ngā mahinga ā-tinana me ngā pūkenga whakawhitiwhiti o āna akonga. Ka āta tōia ake ngā wheako o āna akonga hei whakaū i āna akoranga, otirā, he mea nui tēnei mā ngā akonga kātahi anō ka tīmata ki te ako e pā ana ki tō rātou taha Māori.
Hei tā tētahi akonga, "Ko au tētahi o ngā akonga maha, nō mātou te waimarie ki te ako, ki te whai i te tauira, ki te whiwhi hoki i te mātauranga o tēnei kaiako whakahirahira … Nōku te hōnore, i tonoa au ki te mahi i tētahi kaupapa rangahau i te taha o Awanui, i muri i taku Tohu Kairangi, e tino rongo ai au ki te hōhonu o tōna mātauranga me ōna pūkenga."
"Our students come to us with a very diverse range of experiences. My role is creating space for all of those experiences to be valued and recognised."
Awanui's ultimate goal in teaching is to guide the navigation of both Māori and Pākehā students through the wider cultural and societal implications of colonisation. Awanui achieves this by underpinning her teaching in Kaupapa Māori methods and utilising her background in psychology.
She is widely respected and admired by students and academics alike due to her innovative and transformative teaching practices; inviting students to "regain control over areas of their academic, social and cultural lives to create a narrative that is aligned with their goals". Colleagues value her "considered, evidence-based contributions to the te reo Māori teaching team and numerous other developments".
Awanui's teaching in both te reo Māori and mātauranga Māori is centred on fostering practical and interpersonal skills within her students. She sensitively draws on their lived experience to enhance the impact of her teaching, especially for students who are learning about their Māoritanga for the first time. One student comments, "I am one of many fortunate to have been taught, guided and mentored by this amazing teacher … I am honoured to have been asked to work with Awanui post-PhD in a number of research projects where I was able to see her expertise and skills at an even deeper level".
Video Gallery
Dr Awanui Te Huia – Recipient of a 2020 Tertiary Teaching Excellence Award