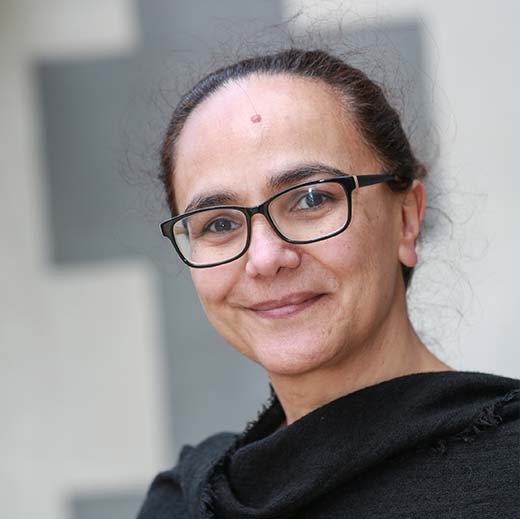 Associate Professor Diane Ruwhiu
Award for Sustained Excellence in Tertiary Teaching – Kaupapa Māori category
Ahorangi Tuarua – Te Mātauraka Whakahaere, Te Whare Wānanga o Otāgo
Ko te whakahau a Diane ki āna ākonga, me kaupare atu te wehi o tō rātou ake kūwaretanga. Koia anō hoki tāna, he whakakore atu i ōna anō whakamataku i te mea kāore ia i tipu ake i raro i ngā manaakitanga o tōna ao Māori. Otirā ko tāna, he manaaki i te hunga, pērā i a ia anō, e whai ana i te ara ki tō rātou ake ao Māori. Koia pū te hirangatanga o ngā mahi whakaako ā Diane, arā ko te manaaki tonu i āna ākonga.
Ka mātua whai ia kia noho ko ngā kaupapa Māori ki te pūtake o āna mahi whakaako e pā ana ki ngā tikanga o te mahi pakihi me te mātauranga o te kaupapa whakahaere. E mōhio pai ana hoki ia, me whai wāhi tahi mai ngā kaupapa Māori me ngā kaupapa Pākehā, kia pūmau ai te mana o tēnā, o tēnā. Nā whai anō, he rerekē āna mahi whakaako.
Ka arotahi a Diane ki ngā āheitanga o te mātauranga Māori me ngā tirohanga ki te ao kei waho atu i ngā tikanga mātauranga o ngā ākonga. Ka tukuna atu ngā taputapu ahurea, taputapu wete-reo hoki ki ngā ākonga, kia āhei ai rātou ki te āta whiriwhiri i tēnei wāhanga. Hei tā tētahi o ngā ākonga "Ki a au rā, i puta mai te kōrero tino whaihua mōku ake, i te wāhanga o te pepa e pā ana ki te ao ōhanga Māori, arā, ka āta whakakitea ake ngā ākonga ki te hononga motuhake i waenganui i te hapori pakihi me te pāpori o Aotearoa."
E te ringa tōhau nui, he tino kākano koe i ruia mai i Rangiātea!
Associate Professor – Department of Management, University of Otago
Diane challenges learners to address their fears of what they don't know. In much the same way, she has addressed her own fears, not having grown up in an environment that fostered a deep understanding of her Māori identity. Her manaaki of others through this journey, akin to her own, is what sets Diane apart as an exemplary teacher.
She ensures that the kaupapa Māori content of her teaching is central to current disciplinary norms of business and management. She's also aware that it needs to be a coherent collaboration of Māori and Western approaches that maintains the integrity of both. As a result, her approach to teaching is different.
Diane focuses on the potentiality of Māori knowledge and worldviews that sit outside learners' existing disciplinary knowledge. She equips them with the necessary cultural and linguistic tools to be able to negotiate this space. As one student commented "I felt the most valuable information came from the Māori economy segment of the paper where students were shown how unique the relationship between business and society is in New Zealand."
E te ringa tōhau nui, he tino kākano koe i ruia mai i Rangiātea!
Video Gallery
Associate Professor Diane Ruwhiu – Recipient of a 2021 Tertiary Teaching Excellence Award