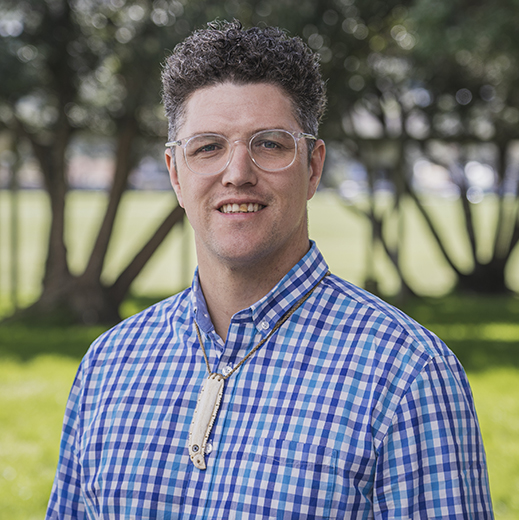 Jamie Smiler
Te Whatu Kairangi Award | Kaupapa Māori
One ākonga at a time
Jamie is Senior Academic in Tourism Te Whare Wānanga o te Awakairangi | Wellington Institute of Technology | Te Pūkenga.
Inspired by the work of some of Aotearoa's strongest kaupapa Māori academics, there is no doubt that Jamie is passionate about ākonga Māori success. To consistently prioritise a kaupapa Māori-led approach that incorporates Māori values and principles is courageous and admirable. Jamie uses 'real life, real time Te Tiriti issues' to inform teaching practices as a window into the real world for ākonga, which is strongly reflective of a kaupapa Māori approach. As a result of their perseverance and commitment, the benefits reach far beyond ākonga and the institution, into the wider community – whānau, hapū and iwi.
Through a range of leadership roles, for example with Te Pūkenga's Tekau-Rima strategy and the Staff Reference Group, Jamie provides a wonderful example of how Māori educators can influence structural change within an institution and beyond. His understanding of kaupapa Māori theory and praxis continues to advance kaupapa Māori, and his personal philosophy of 'one ākonga at a time' is a true testament to the kaupapa Māori-informed teaching excellence.
One ākonga gave the following feedback: "I had thought I [was] some way in my understanding of tikanga but realised I still have so far to go. Your session was inclusive in allowing us to explore our misunderstandings in a compassionate and trusting manner…"
---
Ko ia ākonga tōna kotahi anō
He pou whakaaweawe ngā pūkenga Māori o te ao mātauranga ki a Jamie, otirā, tūturu, ko te ekenga o ngā ākonga Māori ki te taumata o angitū he mea nui ki tōna ngākau. He mea mīharo tōna māia ki te hāpai ki runga rawa, te kaupapa Māori i roto i āna mahi, waihoki ki te mau pūmau ki ngā tikanga me ngā mātāpono Māori. Ko tā Jamie, he whakamahi i ngā 'take o te ao tūturu ā mohoa noa nei, e pā ana ki ngā take o Te Tiriti' hei whakamōhio i āna ake mahi whakaako, hei matapihi hoki ki te ao tūturu mō te ākonga, me te mea, e āta kitea atu ana te wāhi nui o te kaupapa Māori. Nā wai rā, kei te kitea ngā hua o te manawanui me te ngākaunui o ngā ākonga ki tua ake i a rātou anō me tō rātou whare ako, tae noa ki te hapori whānui – arā, ki ngā whānau, ki ngā hapū me ngā iwi.
He tauira whakahirahira a Jamie i te whānuitanga o ōna tūranga kaiārahi pēnei i te rautaki Tekau-Rima ā Te Pūkenga me te Staff Reference Group, e whakaatu ana i te wāhi nui ō ngā kaiwhakaako Māori i roto i te whakahoutanga anga o ngā whare ako me tua ake anō. Ko tōna mātau ki ngā ariā me te whakatinanatanga o te kaupapa Māori, he mea kōkiri whakamua i te kaupapa Māori, waihoki, me tōna ake whakapono hoki, arā, 'ko ia ākonga tōna kotahi anō', ā, he mea whakapūmau i tō Jamie hiranga nā tana whakamahi kaupapa Māori. Anei ngā kōrero ā tētahi ākonga, "Nōku te pōhēhē, kua mārama kē noa ahau ki tēnei mea te tikanga, heoi, kei te kite ahau, he roa tonu te ara. I rongo mātou i te wairua manaaki me te ngākau atawhai i roto i tō akoranga, kia taea ai e mātou te tūhura i ō mātou pōhēhē i raro i te korowai o te aroha me te pono ..."
Video Gallery
Jamie Smiler - Recipient of a 2022 Te Whatu Kairangi Award