Enter the Awards
2023 nominations are now closed.
Te Whatu Kairangi celebrates outstanding educators across the entire tertiary education sector who are making a difference to learners, their whānau and communities. These awards are about building sector capability for learner success in Aotearoa NZ.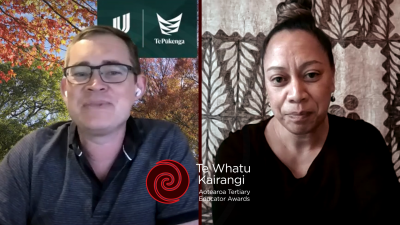 WATCH: James Oldfield, Review Panel member, and Analiese Robertson, Ako Aotearoa Pacific People's Caucus, talk about preparing a nomination portfolio and the importance of the new Le Moana Mua award at our recent information sessions.
How to enter
Use this Microsoft Word template for your nomination. The word count limit is 4,500 words. Enter the nomination plus any video or audio at the link below.
Submit your entry for the awards here
2023 Nomination Process
There are two new awards in 2023:
Le Moana Mua Award recognises the outstanding practice of Pacific Educators.
The General award now has separate criteria for Groups. A group is people who collaborate to contribute directly to the achievement of successful outcomes for learners.
For more information download the 2023 Procedures, Guidelines and Criteria.
Through these awards, outstanding tertiary educators have the opportunity to:
Share their commitment to and outstanding practice in building educational capability and sustained learner success.
Showcase their innovative work and responsiveness to student needs.
Reflect on and strengthen their teaching or training practice.
Enhance their careers.
Access monetary grants to advance their work, enhance their career, promote good practice and benefit learners.
We want to hear about the outstanding mahi being done by Aotearoa tertiary educators from right across the sector, no matter what they teach or train, and the organisation they do it in. This includes educators from Industry Training Organisations, Private and Government Training Establishments, Adult & Community Education, Wānanga, Institutes of Technology and Polytechnics, Universities and more.
Te Whatu Kairangi is one of the most well-recognised and respected tertiary education awards programmes in Aotearoa. So, being part of these Awards is being part of something big.
Nominations close at 5:00 pm, Friday 30 June 2023.
The Awards
In 2023, Awards are $20,000 for a group award and $10,000 for an individual award.
The number of awards made will depend on the number of group awards given, but at least two Kaupapa Maori Awards and at least two Pacific Awards will be awarded in 2023.
One Prime Minister's Educator of the Year Award (with an additional $10,000 grant) will also be awarded to the nominee whose portfolio the panel agrees best exemplifies the overall criteria.
Award categories and criteria
The categories for General awards focus on some of the important challenges facing tertiary education today, and include:
Advancing approaches to, and the outcomes of, work-based learning.
Achieving diversity and inclusion for improving outcomes for: Māori learners; Pacific learners; neurodiverse learners; and/or learners with disabilities.
Innovation in learning, teaching, and curriculum (including developers, educators, or combinations).
Progressing educational partnerships and collaboration.
Initiatives for progressing on hauora and wellbeing in education.
Progressing on seamless ākonga transitions between contexts.
The Awards criteria have a strong focus on evidence of sustained contribution to and impact on learner success, and the subsequent impact on whānau, communities, and employment outcomes.
Who can enter
We welcome nominatons from any tertiary educator who has been working in an education position for at least four years full-time, or equivalent, and is employed with an organisation that receives Tertiary Education Commission (TEC) funding.
Get behind the awards
Download a flyer and share it with your networks.
More information
Analiese offers advice on putting together a nomination for the new Le Moana Mua Award which celebrates the outstanding practices of Pacific educators, part of Te Whatu Kairangi, Aotearoa Tertiary Educator Awards.
James offers advice on putting together a nomination for Te Whatu Kairangi, Aotearoa Tertiary Educator Awards.
Download the 2023 Procedures, Guidelines and Criteria booklet for more detailed information on the awards and entry process.
Please contact us if you have any questions, or check out our FAQs.
Supporting Documents
The guidelines include information on award eligibility, the nomination process and portfolio requirements. A checklist is included at the end of this booklet.
(PDF, 6.8 MB)
Use this template to submit a nomination for Te Whatu Kairangi - 2023.
(DOCX, 17 KB)
Questions and answers about Te Whatu Kairangi, including eligibility, categories and criteria and how to submit a nomination.
(PDF, 945 KB)