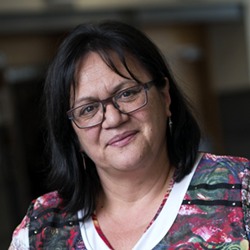 Mereana Rapata-Hanning
Award for Sustained Excellence in Tertiary Teaching – Kaupapa Māori category
Principal Lecturer, School of Nursing, Te Kura Matatini ki Otago | Otago Polytechnic
"My key contribution is in increasing knowledge about contemporary Māori health status and informing health professionals of strategies that will enable them to work effectively with diverse Māori realities that exist in Aotearoa today."
Mereana has more than 20 years of tertiary teaching experience. In that time, she has as built an impressive reputation as an educator, mentor and scholar. Her mode of teaching effectively draws upon her Māori values and upbringing. She encourages her students to share and interact with each other, to embrace concepts of whanau and communal engagement, and to create a learning environment which is mutually rewarding and supportive.
Teaching mainly non-Māori students about Māori cultural practices and norms can create numerous challenges. However, her open and enthusiastic approach, wide knowledge of subject matter, and ability to create a safe learning environment has allowed her students to not only embrace "things Māori" but to have a deep understanding of how culture and health interact. To this end, her teaching goals are not simply confined to course completions or pass-rates. In addition they focus on the ability of her students to enter the workforce and to make a positive contribution to Māori health outcomes.
Video Gallery
Mereana Rapata Hanning - Recipient of a 2017 Ako Aotearoa Tertiary Teaching Excellence Award