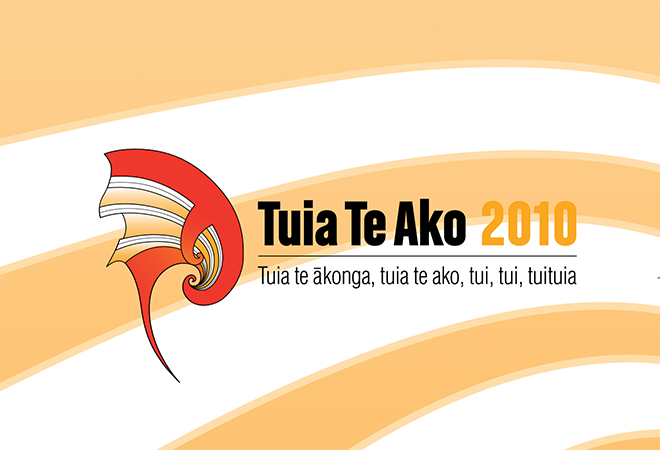 Conference Presentations
Tuia Te Ako | 2010
Project Details
Presentations from Tuia Te Ako 2010, Ako's inaugural Māori education hui. Held at Pipitea Marae, Wellington across two days in August, the hui featured a wide range of speakers from across the wider tertiary education sector.
Key Points to Note:
Ngā Kaupapa Matua | Themes of the Hui
Rangatiratanga – Leadership in Māori Tertiary Education
What does leadership/rangatiratanga look like for Māori in the tertiary sector? What is the ideal? How do we get there?
The rise of Wānanga has also seen an increase in the numbers of Māori learners. Māori currently have the highest participation rate in tertiary education of any ethnic group in Aotearoa. The leadership of Professor Whatarangi Winiata, Professor Hirini Moko Mead and Rongo Wetere was key to this development. The impact of this leadership is clear, but what type of leadership is required now and in a future where in the next 20 years the Māori population aged 15 to 24 will grow by 17,000 and those aged 25 to 34 will increase a further 14,000?
Whakawhanaungatanga – Building Community in Māori Tertiary Education
How is whakawhanaungatanga currently expressed in Māori tertiary education? How do we develop a cross-sector strategy that works for all?
Ākonga, pouako and kaimahi Māori are spread across a vast array of tertiary providers with different underlying principles and processes. Against this backdrop, how do Māori working in different parts of the sector work together to produce better outcomes for ākonga Māori? How do we put aside our university-tanga, our wānangatanga or ITO-tanga in the wider interest of Māori in tertiary education? Some may ask do we actually need to?
Whakawhitiwhiti Whakaaro – Discussion of Māori Tertiary Education Issues
What are the common issues across the sector and what are the issues specific to your part of the sector? What strategies can we develop to broaden and advance these discussions, and how do we put them in place?
There are a range of issues that impact on successful Māori participation in tertiary education - fundingarrangements, pastoral care/student support, access, retention and completion, relevance, teaching, and curriculum to name a few. Some of these issues are common across the sector and some are specific to parts of the sector. What are the benefits of sharing learning through discussion within parts of the sector and across the sector?
Ahu Whakamuatanga – Māori/Iwi advancement
How is the Māori tertiary sector aligned to contribute to the development and advancement of whānau, hapū and iwi aspirations? How do kaimahi balance their career, institutional expectations and commitment to their iwi/community?
Many Māori teachers and learners in tertiary education are motivated by a desire to improve outcomes for whānau, hapū, iwi and Māori communities through tertiary education. Some tertiary institutions have an iwi focus i.e. Iwi PTEs, while others have a more generic Māori focus i.e. Wānanga. Given that iwi are becoming increasingly important players in tertiary education, how do Māori in tertiary education work with iwi and Māori Zzcommunities to better meet their needs?