Tapatoru FAQs
What is Tapatoru? 
Tapatoru is a professional development framework, a reflective practice tool, and a whole-organisation approach to capability building.  There is a Tapatoru Ako Professional Practice Individual Award for educators and learning support staff, and a Tapatoru Ako Professional Practice Organisation Award for Tertiary Education Organisations (TEOs). 
What is the purpose of Tapatoru? 
The purpose of Tapatoru is to foster a professional learning culture within TEOs, and to recognise teaching staff who meet the standards for professional knowledge, practice and values. 
Who is it for? 
Tapatoru is for all TEOs, and for teaching staff at all programme levels, from foundation education to higher education. 
What are the components of Tapatoru? 
The word Tapatoru means 'triangle' and the framework integrates the three dimensions of professional values, professional knowledge, and professional practice: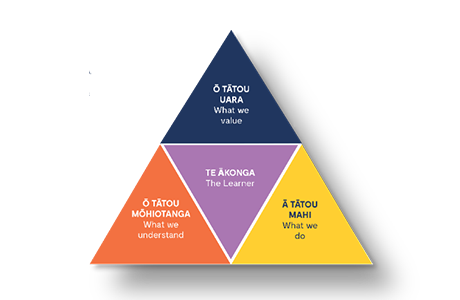 Ō tātou uara - What we value 
Ō tātou mōhiotanga - What we understand 
Ā tātou mahi - What we do 
The cultural underpinning of Tapatoru is the Te Pā Harakeke Tapatoru metaphorical model. The triangle reflects the growing tip of the harakeke plant.
What is Tapa Tolu?
We have developed a specific focus on Pacific capability building within the original Tapatoru framework, Tapa Tolu. Tapa Tolu will suit Pacific practitioners as well as Palagi practitioners working with Pacific learners, with a focus on evidence collection and assessment in a way that is consistent with Pacific values and worldviews. 
Is there a cost?
Free content and resources will be available via Pathways Awarua on a new educator pathway. This can help you prepare for the facilitated Tapatoru process, which is needed to apply for the award. TEOs can register for Tapatoru through a subscription model. Subscription is $250 per month for a group of up to 30 staff. The subscription includes:
facilitator support
access to Tapatoru Community of Practice
monthly webinars
one free Manako course or workshop per year for each registered participant
assessment of up to 5 portfolios of evidence per month
coaching and mentoring of a team of in-house trainers
and the awarding of Tapatoru Individual Awards, in the form of a digital badge, to qualifying participants.
Can individuals register for Tapatoru?
Tapatoru is an organisational approach to capability building. TEOs register and pay the monthly subscription. It is a collaborative process, with groups of staff working together. If you cannot register through an organisation, you can register as an individual, and the same subscription fee will apply.
What would it mean for me as an educator? 
You will gain recognition for the professional knowledge, practice, and values you apply in your teaching. You will develop strategies for becoming a reflective practitioner, design your personal professional learning and development pathway, with the guidance of the Tapatoru facilitators, and build your capability in developing a learner-centred, values-based approach to teaching and learning.
What would it mean for us as an organisation?
TEOs that register for Tapatoru commit to ensuring their staff meet the minimum standards for teaching practice, knowledge, and values. Tapatoru is designed to support sustainable professional development capability within organisations. It incorporates a 'train the trainer' model: coaching and mentoring of a team of in-house professional development support staff, who can help drive the Tapatoru process and support continuous staff development in your organisation. TEOs that have reached the threshold of 80% of teaching staff having achieved the Tapatoru Individual Awards will be awarded the Tapatoru Organisation Award, indicating their commitment to, and achievement in, professional development of staff, which is vital for learner success. 
What support will I receive? 
You will be guided by the Tapatoru facilitators. They will work with you through each part of the process and support you to achieve the award.
How do I achieve the Tapatoru Individual Award?
Once you are registered, the facilitators will work with you through a reflective process to identify what professional development might be useful for you and to measure yourself against the standards. This process involves recognition of prior learning, where appropriate, and the development of a personalised professional learning and development pathway. You will develop a portfolio of evidence to show that you meet the standards. This portfolio is assessed by the facilitators. 
How long will it take to achieve the award?
The timeframe will usually vary between 2-6 months. The facilitators will work with your timeframes and workloads to ensure you get the most out of your Tapatoru journey.
Is this a qualification?
No, Tapatoru is a Professional Practice Award. The Tapatoru Individual Awards complement existing qualifications and other professional development offerings.